Pakka Music, Mobile Music player IONIC theme
Pakka Music is a high quality audio player template built with ionic framework, an open source framework which gives the advantage of accessing the native APIs of devices. This music player app Template is elegant with its simple design and makes the code more user-friendly. This Music Player Theme for android and IOs would help you in building an extraordinary app that could revolutionize the era of music players. Pakka Music is a fully customizable Mobile Music Player Skin up to any level according to your requirements and packed with features.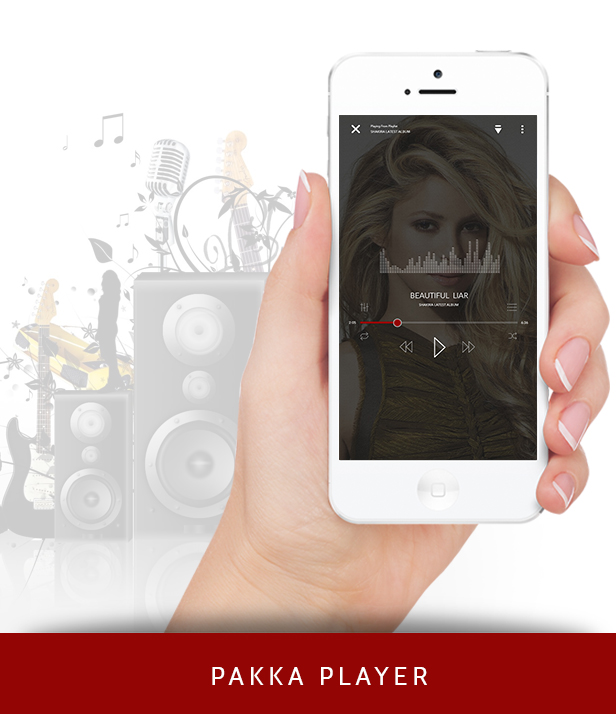 FEATURES
Elegant and enchanting  design
User friendly and efficient template
Custom player
Adjustable streaming and download quality
Music playlist
Supports Android IOS and windows
Customizable up to any level  
Here are some use cases where the Pakka Music Template is applicable
Music Event
Music Bands
Festival
Night club
DJ's
Radio
contact us  or mail to info@techware.co.in , we are always ready to help you.
Work together with Techware Solution
We are experts in developing effective, responsive and custom high quality web and mobile app templates in India. If you are a developer and looking for a high-quality mobile Music Player Template for your next project the Pakka Music is the ideal and responsive audio player Template for you.
Ionic view Preview App ID 42c9f3f4
Enjoy the Ultimate Hosting and Installation Service.
Here's a good opportunity if you are looking for a hosting and installation. This offers lots of features with good service and support. Everything you will ever need in one service with one time signup fee of $10. Don't miss out.
For availing, send a mail to support@techware.co.in with your purchase code.
*Promotional pricing is for the first term only and regular rates apply upon renewal.
TO GET SUPPORT, FOLLOW THE STEPS BELOW
FOR BUYERS
Raise a ticket to support@techware.co.in with your purchase code
Our agent will reply back to your ticket in 24 hours
For status updates please chat with our agent with your ticket number by visiting our website www.techware.co.in  at Indian time 9 am to 6 pm
FOR PRODUCT ENQUIRIES OR PRE-PURCHASE QUIRIES
Mail to support@techware.co.in with your enquiry details
Our agent will reply back you in 24 hours or
For live chat support, visit our website www.techware.co.in and chat to our agent. Ticket id is mandatory to chat with our agent.
FOR PRODUCT CUSTOMIZATION OR NEW DEVELOPMENT QUERIES
WhatsApp to  +919526038555 with your requirement